At Ever Cool Media, we understand the importance of having a professional and effective website and e-commerce that meets your need, and the needs of your business. That's why we offer comprehensive website and e-commerce design services that are tailored to the unique needs of your business and your vision. Weather you are an independent artist, musician, music producer, blogger, accountant, small business owner, or want to share your passion, we can help you. We help content creators like you to have your own website and e-commerce store.
Your WordPress website will give you the freedom to express yourself, the flexibility to add all the things that you want and need to be successful, you are going to have full control, because is going to be your website, and is going to be future proof, because can be updated and upgraded with current and new technologies.
Our team of experienced designers and developers work closely with you to create a custom website that not only looks great, but also meets the specific needs of your business niche. Whether you're looking for a website to showcase your portfolio as an artist, sell your music or merchandise as a musician, create a platform for your blog or content, sell your beats, sell print on demand products, offer your services as an accountant, and more. We've got you covered.
Our web design services include:
Custom Design: Our team creates a unique design that reflects your brand identity and business goals. We ensure that the design is both visually appealing and user-friendly to ensure the best possible user experience for your customers.
Responsive Design: All of our designs are optimized for mobile devices to ensure that your website looks great on any device, from desktops to smartphones.
CMS Integration: We can integrate a content management system (CMS) into your website so you can easily update and manage your site's content without any coding knowledge.
E-commerce Integration: We can also integrate an e-commerce platform into your website, allowing you to sell products or services online with ease.
Appointment Services: We can integrate an appointment service system where your customers and/or potential customers can easily book appointments directly from your website for services you offer. With notifications for appointment submissions for the person requesting the appointment, and for you offering your service. Easy appointment management system for you website with calendar view, list view, timeline, upcoming and past appointments, and more.
SEO Optimization: We optimize your website for search engines to help improve its visibility and ranking in search results.
Website Maintenance and Updates: Providing ongoing maintenance and updates to ensure the website and/or e-commerce store is running smoothly and securely. Daily backups and security updates to ensure the website's security, stability, and performance. With this ongoing website maintenance service we ensure that your website is up-to-date, secure, and functioning properly. (Separate service that is required, please contact us for more information
So, whether you're an independent artist, musician, music producer, blogger, accountant, small business, individual, or content creator, Ever Cool Media can help you create a website that reflects your unique brand identity and business goals.
We believe that a website should not only look great, but also perform well to meet the needs of your business and your vision. Don't miss out on the opportunity to have your own website, e-commerce store, and online community. Contact us today to learn more about our web design services and how we can help take your online presence to the next level.
Website and E-Commerce Design packages starting at:
Depending on your project.
A great way to get started with an amazing website!
You will have a great website with a beautiful design, powerful features, that harness limitless possibilities, with simplicity, flexibility customers and visitor's usage, and easy management for you, and your team.
Beautiful designs, with powerful features, and you will have all the freedom to build anything you want.
You can add online store, galleries, mailing list, forums, audios, videos, and much more. Full creativity and freedom.
You can have any type of website you want: from a personal blog website, online store, community, business, entertainment, etc.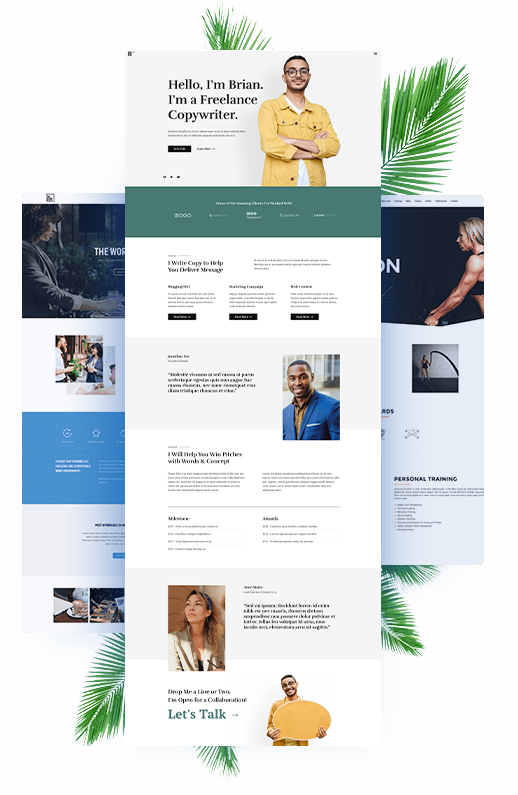 WordPress have more than 55,000 plugins to help your website to meet your needs and creativity.
Nothing should get in the way of you getting your website and your content out there. We can help you to make that happen.
WordPress makes easy for you to manage your content. Easy to create publications, upload pictures, and more!